This week, in our Torah portion, Vayishlach, we continue to see Jacob's transformation. He comes from a family who shares a covenant with God. His mother made sure that he was destined to continue that line by helping him get the birthright blessing from his father, Isaac. And last week, he made a deal with God, if you clothe me, give me shelter and a safe place, then you will be my God. But God does not let him off the hook that easily.  In this week's portion, the ultimate status change happens for Jacob, his name is changed. 
Just like Avram who became Avraham, including the "hey" to include God in his name Jacob's name will take on a connection with God. Jacob wrestles with a man or Divine being and before the sun rises, Jacob says to the being, "I will not let you go unless you bless me." And with that the being says, "Your name shall no longer be Jacob, but Israel, for you have striven with beings divine and human and have prevailed." Like his grandfather and now him, Jacob's status has changed, has been elevated. 
Tonight, we are excited to share our news with you about a status change for HaNefesh!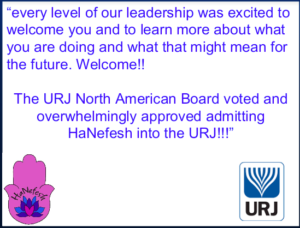 We are so excited to share this amazing news with you! HaNefesh is officially a part of the Union for Reform Judaism! This has been a long process which included sending a formal application describing why we wanted to be a part of the URJ, discussion by the New Congregations committee of the URJ and finally, a vote by the National Board of the Union for Reform Judaism. 
And the URJ is very excited to have HaNefesh as a part of the URJ community. We are proud that they recognize us as a community and not a congregation – a congregation has a building and HaNefesh goes beyond the walls. As a virtual community, we know that we reach out to those not only here in Southern California but throughout the country and even Canada, London, Israel and Australia! And while we are able to gather more in person, we know how important it is to be multi-access so that we don't ever leave out those who are online with us and love to celebrate, learn and worship with HaNefesh. Yes, time differences can be a challenge, and we try to be aware of that when planning. 
HaNefesh has brought together so many people who might never have stepped into a building or who had in the past, but are looking for alternative ways to connect. Yes, Covid was a big factor in how we created our community but even before Covid, we knew that Judaism must continue to evolve in order to meet those who are looking for a Jewish connection where they are. Jodi and I recognized a long time ago that we need to adapt to the ever changing needs of individuals and families who are looking for a very inclusive and flexible community. The centuries have shown that Jewish life must adapt to our ever changing and growing communities while also maintaining a structure and opportunity for spiritual, intellectual and social growth. HaNefesh is that type of new community. 
Jodi and I are products of the Reform movement. We are graduates of the Hebrew Union College-Jewish Institute of Religion and believe strongly in the tenants of Reform Judaism. We are members of our respective professional organizations and have in years past, served on their national boards. We believe strongly in the ethical codes of the organizations and act within those codes through our work. 
In our application to the URJ we shared how HaNefesh hopes to be a partner with the URJ in examining, learning from and creating the new landscape of liberal Judaism. A few months ago, we were approached by the URJ to join a group called, the URJ Multi-Access Network: Technology for Engagement Hub. We have enjoyed the conversations with other Reform communities as together we vision how best to reach and engage individuals outside of the traditional synagogue model.
And finally, we are the first and only emergent community of our kind within the URJ. And I am sure we will not be the last. But for now, HaNefesh will not only be a community from which we continue to grow and learn, but we will serve as a teacher and inspiration to others. We recognize that Judaism and Jewish living can be found in so many different communities. That we do not need to be tied to one space or one building. Yes, we know how important it is to have personal connections and gather in person when able. But we also see how awesome the connections are that we have made online. We have all discovered that learning and worshiping together transcends space and there is beauty in seeing each other's faces rather than the backs or sides of heads. And let's face it: who doesn't like wearing comfortable clothing, a wine glass in hand, and not have to fight the traffic on a Friday evening? 
HaNefesh will gain so much from being a part of the URJ as well. We will be able to participate in the programs and actions from the Religious Action Committee regarding social justice issues that are important to us as a Jewish community. There is also NFTY, North American Federation of Temple Youth, which our youth can make more connections with both virtually and in-person. And we will be able to glean from the various networks on the Tent, the URJ social platform, that can inspire and inform us of different program opportunities and learning. With the collective, there are more opportunities for us to continue to grow while never losing sight of our mission: We create inclusive spaces for families with kids, couples and single people, queer and trans people, interfaith families (Jewish adjacent), Jews of color, Jews from many religious and secular backgrounds, and anyone interested in exploring and experiencing Jewish life. We value Jewish spiritual practice and community, focusing on engaging, educating, and empowering people across the spectrum. We are re-invigorating Judaism for the 21st century and leading people toward more purposeful, more connected, and more inspired lives.
We are so excited and honored! Hopefully you will share in this excitement and if the URJ is all new to you, don't worry, we're going to learn more about what it means for our community to be a part of the largest Reform Jewish community for many years to come.
Like Abraham and Jacob, our status has changed and each of us should be proud of this accomplishment and this opportunity to grow and continue to be strengthened each and every day! 
Chazak, chazak, v'nitchazek – we will go from strength to strength and be strengthened together!
We recognize and welcome Wendy Rhodes the chair of URJ new congregation's committee